Good News: HDS was awarded a new high-tech product certificate
HDS was awarded a certificate of new high-tech product that was issued by Hainan Sheng Kexue Jishuting again on 18th, July, 2017.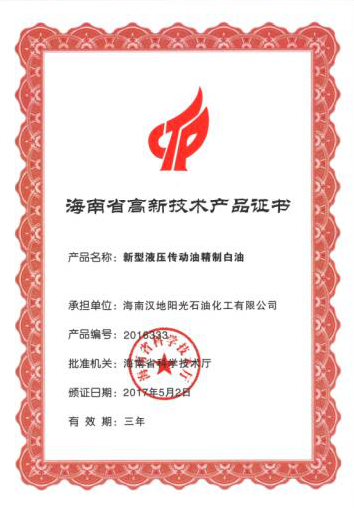 New high-tech product is important conditions for affirming new high-tech enterprise. It requires the declared product should be with ISO quality management system certification, and should belong to category of national and provincial high and new –technology product catalog, the technical level of declared product should come up to the advanced domestic standard and have broad market and significant benefits.
The honor can be taken as recognition of technical innovation and approval of research and development achievement. It is efficiency of focusing on independent research and talent cultivation.
HDS adhere to technology innovation all the time, constantly develop independent intellectual property and private brand high-tech product, and possess super premium technological level. The new hydraulic transmission fluid that gained the high-tech product certification far exceeds industry standard and explores new field of hydraulic transmission fluid. It fills domestic market gap, reduces the dependence on foreign product, strengthen competitiveness of national refined white oil industry and make a great contribution to the development of national white oil industry.
The time of intellectual property is the competition of technological innovation and the competition of depth of brand.HDS will keep on deepening the layout of industry chain of group, keep improving, take innovation as driving force and focus on the world to build Handi brand to become the most competitive company in the whole world.